Description
Best Canyoning in Lake Bled
Slovenia is famous for its pristine and untouched nature and the best canyoning in this part of the country. Canyons surrounding Bled are the most beautiful ones in the country. Join us and explore the gorges and crystal clear fresh mountain streams that have carved them centuries ago.
Many canyons in Slovenia are part of national parks and protected areas.  We made it our goal to get everyone a chance to experience them first-hand.
Through canyoning in this part of Slovenia we offer you some of the most breath taking and thrilling experiences. Canyons around Bled especially are the perfect blend of diversity. We have hence merged all of our favourite outdoor sports into one thrilling activity: hiking through beautiful forests, climbing, swimming in pools of fresh mountain spring water, jumping down waterfalls, abseiling and much more.
If you're hungry for adrenaline, if you're looking to add a touch of adventure to your holiday, and especially if you are into trying something new and exciting, come and join our team of experienced canyoning guides.
For a full day of adventure check out our package offer for best canyoning and rafting here: http://outdoor-slovenia.com/product/canyoning-rafting-bled/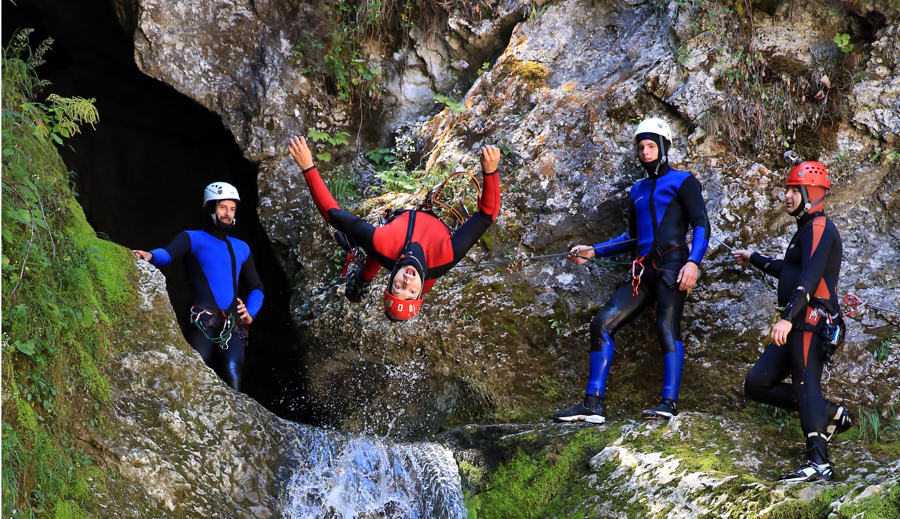 Safety
In order to ensure the best canyoning experience for everyone, we make safety the first priority on all our trips. Consequently, all our guides have every necessary license and years of experience. In addition to the techniques we use to ensure a safe trip, each participant gets a thick wet suit that protects them from the refreshingly cold water and other elements. We provide all the rest of the equipment that is provided includes shoes, a helmet and a climbing harness used for abseiling.
All you will need to bring with you is a swimsuit to wear under the wet suit, a towel to dry off at the end, and a bottle of water. If it is a cold day, a warm change of clothes is a good idea also.
Canyons to choose from:
Jerečica (trip duration 3-4 h)
Grmečica (trip duration 3-4 h)
Season for Canyoning in Bled:
From April to October
Since canyoning uses many elements of other sports it is physically quite demanding. Children have to be at least 10 years old. The minimum height requirement for canyoning is 150cm.
Transfers from Bled and other local towns are included in the price.